Dyslexia is a language-based learning disability. Dyslexia refers to a cluster of symptoms, which result in people having difficulties with specific language skills, particularly reading. Students with dyslexia usually experience difficulties with other language skills such as spelling, writing, and pronouncing words.
Studies indicate as many as 40% of all early elementary school students in the United States have some initial difficulty learning to read. Nearly half of these students (i.e., 15-20% of elementary students) have significant problems and continuing difficulties with reading fluency, comprehension, and spelling. Many students with ADHD also have dyslexia or another language based learning difficulty.
What are the Symptoms
&

Signs of Dyslexia?
Possible Signs of Dyslexia or a Language Based Learning Disability Include:
Slow progress acquiring reading skills
Trouble reading new/unfamiliar words
Mistakes with small words such as: that, an, in
Difficulty sounding out multi-syllable words
Omitting part of a word when reading out loud
Poor oral reading ability
Extreme fear or avoidance of reading out loud
Poor memory of dates, names numbers, etc.
Substitution of words with the same meaning
Very poor spelling
Frequent hesitation and pauses when speaking
Using the wrong word when speaking with one that sounds similar
Slow, labored reading, avoidance of reading and/or lack of pleasure in reading
Despite reading/language weakness, demonstrates strong, higher level reasoning ability
Better reading words when in context than as a single word
Poor performance on multiple choice tests and math word problems
Is your child struggling with reading?
Is your reading slow and laborious?
Do you or your child become anxious reading out loud?
Does your child hate reading?
Ever worried that you had dyslexia but were not sure?
We can help! We have proven Dyslexia Treatment Programs to help those with Dyslexia.
Programs Are Run by a PHD Licensed Neuropsychologist.
We Have a Researched Based Program – The research provides evidence that substantial improvement can be made with reading using our interventions.
Comprehensive Assessment and Treatment – We have a comprehensive, researched based assessment and intervention program. We can not only address the dyslexia, but also other possible emotional, behavioral or learning issues that are often found along with dyslexia.
Specialists for Psychological and Neuropsychological Disorders – We are able to assess and treat the full range of psychological and neuropsychological disorders that may be present in addition to, because of, or instead of dyslexia.
Our Proven Treatments
&

Solutions for Dyslexia
Our goal is to help your child become a fluent and independent reader. We offer a multisensory, structured language program to successfully teach reading & spelling.
Research¹ has shown that the 3 key  elements of successful intervention for dyslexia are: 
Address the phonemic awareness deficit by directly training phonic awareness to the advanced level. 
Teach and reinforce phonic skills and phonic decoding
Provide opportunities for reading connected text
Pathways Signature Treatment Program:
The Three Elements of the Power Learning Tower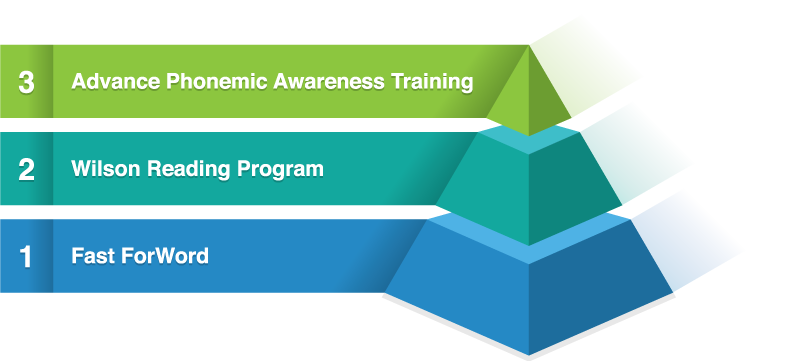 1. Fast ForWord
Proven treatment for enhancing cognitive skills and improving language and reading.
Trains phonics, phonemic awareness, language and reading, fluency, grammar, vocabulary, memory, attention, processing, and sequencing.
The foundation of our program by addressing underlying cognitive skills.
2. Wilson Reading System
Direct, multisensory teaching of phonic rules, decoding, encoding, fluency, vocabulary and comprehension.
Training phonological skills of blending and segmentation.
3. Advanced Phonemic Awareness Training
Direct, systematic and specific training of phonemic awareness to the advanced level to promote fluent word recognition.
We utilize a comprehensive phonological training program.
Research has consistently shown that teaching phonemic awareness to the advance level is a key component of highly effective reading programs and needed for ultimate reading success.
Our Program Utilizes the Following Key Components:
Phonemic Awareness
Word Analysis
Metacognition
Sound/Symbol Relationships
Vocabulary Development
Comprehension Strategies
Decoding
Encoding
Site Word Instruction
¹Essentials of Assessing, Preventing and Overcoming Reading Difficulties, David Kilpatrick, John Wiley  & Sons, 2015